Many free mid-version software updates involve little more than technical tweaks and fixes, but that couldn't be further from the truth with the 9.0d update to Vegas Pro software. This update includes several very robust new features and improvements to the application you'll want to take notice of. In this article, we'll take a look at the free 9.0d update and not only learn what the new features are, but also how to use them.

This update makes Vegas Pro one of the first non-linear editors to offer a complete closed captioning workflow. You now have the ability to import, edit, and export CEA-608 format closed captioning, with support for XDCAM HD MXF files and standalone SCC files. Let's take a look at how all of this works in Vegas Pro.

You can import closed captioning information into your project timeline and match it up with any footage you're using in your project. To do so, select File | Import | Closed Captioning. Navigate to a location on your local or network drives where you have stored SCC files. SCC files are specialized documents that hold all of the relevant closed captioning information. Select the SCC file you want to import and click Open. Vegas Pro imports the file and adds project command markers to your project that hold the closed captioning information.

If you're working with footage from an XDCAM deck that has recorded closed captioning from HD SDI baseband signals to disc in HD or HD422 formats, Vegas Pro software recognizes the closed captions when you import the footage to your timeline. Import an MXF file with embedded closed captioning either through the Explorer window or the XDCAM Explorer window onto your Vegas Pro timeline.

Vegas Pro scans the file and if it finds embedded closed captioning, the media appears in an event on the timeline as usual. The embedded closed captioning appears inside the event as media markers as shown in Figure 1. In addition to adding the file to your timeline, the software also creates an SCC file inside the same folder that holds the media. As long as the SCC file is present, Vegas Pro software will use that information instead of scanning the file again.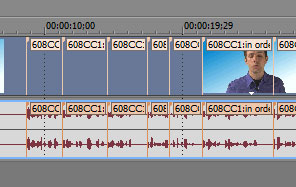 Embedded closed captioning appears in the event as media markers.
Now, edit your project as you would any other project—you don't need to worry about the closed captioning while you're editing. When you've finished your edits, you'll use the powerful Vegas Pro scripting feature to finish the job. Select all of the video events in your project that contain closed captioning. Choose Tools | Scripting | Promote Media Closed Captioning. This script has been added to the list of free scripts that come installed with Vegas Pro software and it creates project command markers that hold the closed captioning information and correspond to the media markers in each selected event.
Once you have the closed captioning command markers on your timeline, you can move and delete existing markers and you can also edit their content. In fact, you can even create new ones if you need to add closed captioning that you don't already have. Right-click one of the markers and choose Edit from the menu. This opens the Command Properties dialog box as shown in Figure 2.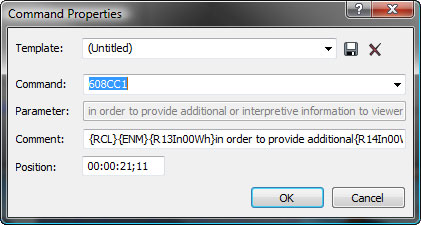 You can edit the contents of a closed caption marker in the Command Properties dialog box.
The Command drop-down list shows that this is a 608CC1 command. CC1 is typically used for the primary language that you want to use for your captions. Click the drop-down arrow. Not all of the options here are related to closed captioning, but you can choose to create 608CC1 through 608CC4 closed captions. 608CC3 is typically used for a secondary language and the other two are rarely used. Leave this set to 608CC1.
You cannot edit the Parameter field which shows you the text contents of the closed caption. The Comment field shows the closed caption information complete with the markup codes that make it all work. You can edit this field to change the closed caption text for this marker. The application help file contains a complete table of the markup codes you can use, so if you really want to get detailed, you can. However, if you just want to change the text of your caption, just type what you want it to say into the Comment field without worrying about the markup code. You can type a new value into the Position field if you want to change the location of the marker. When you're done editing, click OK. Vegas Pro not only changes the text of the closed caption, but also fills in the appropriate markup code to make it all work.
Finally, once you've completed your captioning work, you can export your closed captions embedded into an XDCAM HD MXF file and as a stand-alone SCC file and. Choose File | Render As. Set your save location, name the file, and choose your file type and template. If you're rendering to XDCAM HD/XDCAM HD422 MXF formats, select the Save project markers in media file checkbox. Click Save.
If you've rendered an appropriate MXF file (as described above), Vegas Pro software embeds the closed captioning inside the file and creates a separate SCC file with the same name. If you've rendered some other type of file, the closed captioning is not imbedded into the file, but the application still creates the SCC file for you and gives it the same name as that you specified for the rendered file.
Next, we've added the ability to burn a DVD right from the Vegas Pro timeline. Similar to the Burn to Blu-ray option from previous versions of the software, this makes it very easy to create a quick DVD of your project to share as a reference disc. Of course, if you want full menu support and other more advanced features on your DVD, you'll still want to use DVD Architect as usual. But if you just need to create a quick single-play DVD, it's great to be able to do so without leaving your Vegas Pro project.
To burn your timeline to a single-play DVD, insert a blank DVD into your burner and choose Tools | Burn Disc | DVD. In the Burn DVD dialog box, select your desired format from the Video format drop-down list. Select your DVD burner from the Burn drive drop-down list and a burn speed from the Burn Speed drop-down list. Remember that you might want to run a few speed tests or choose a burn speed that's slower than the maximum to ensure that your DVD burner can keep up. Select the Eject when done checkbox if you want your DVD burner to eject the disc after it's been burned. When you're ready, click OK. Vegas Pro burns your project timeline to the DVD and ejects the disc when it's done if you've chosen that option. A message informs you that the burn has been completed. Click OK to dismiss it. You now have a standard DVD that you can play to review your video.
Another exciting new feature enables you to import multi-layered Photoshop files into your project and break the individual layers out into separate Vegas Pro tracks. Although you have been able to import Photoshop files into your project for years, this new feature gives you tremendous flexibility to use those files in ways you were never able to before. You can still add a layered Photoshop file to your project as a composited image just as you have always been able to. For example, drag a Photoshop file from the Explorer window onto your timeline. You end up with a single event that holds a composite of all of the file's layers. Figure 3 shows my project after I've added a PSD file in this traditional manner. Notice in the event thumbnail that my file has text bounded by colored bars above and below.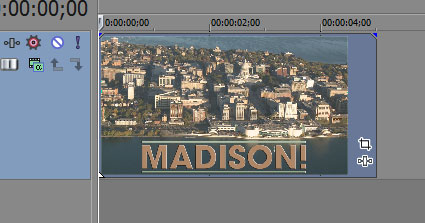 You can still add a layered PSD file in the tradition manner as a single composited image on one event.
But you can now add that same file to your project across different tracks. To do this, use the right mouse button to drag the same layered Photoshop file to your project timeline. After you release the right mouse button, select Add Across Tracks from the menu. Vegas Pro software breaks the file across separate tracks. Each track holds one event and each event holds one layer of the original file. Figure 4 shows my project after I've added a PSD file in this way.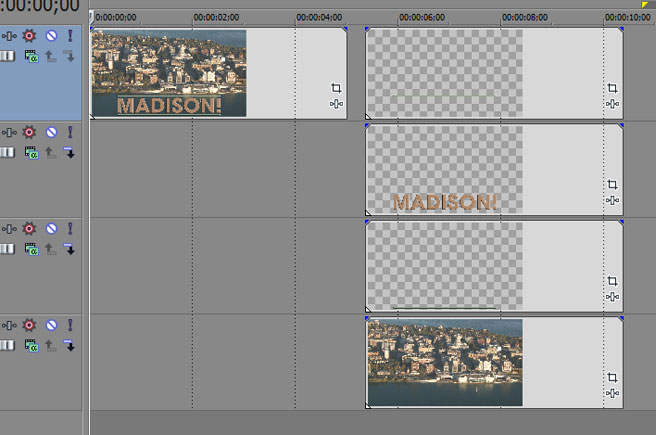 I've opened a four-layer PSD file spread out with one layer per track in my Vegas Pro timeline.
After you've placed the PSD in your timeline using both methods, play your project. Notice that the Video Preview window shows identical results regardless of which method you used to add the file. But the fun comes in when you realize that now that you've broken each layer from your PSD file into its own event on its own track, you can manipulate each layer independently just as you would any other event on your timeline. For instance, you could apply track motion or pan/crop keyframes to any of these events to move them around, zoom in and out on them, and so on. You could also use track motion to make the colored bars slide into position over time, one from the left and the other from the right.
Or, you could make each of the text and bars tracks compositing children of a control track and use the control track's Parent Motion controls to move the text and bars as a group to a different location on the screen. The possibilities are really endless because you have control over each layer individually.
By default, each of the separate events is synchronized and grouped with the others so that when you move one event, you move all of them and maintain synchronization. Of course, you can ungroup them or temporarily ignore the grouping if you want to.
Next, we've added a new filter that makes adjusting the white balance of your footage easier than ever. Click the Video FX tab. Select the White Balance filter from the list of filters on the left and drag the Reset to None preset onto an event in your timeline.
In the Video Event FX window (shown in Figure 5), click the Select white color button. Then, click an object in your video that should be white. The plug-in analyzes what you click on and makes any adjustment necessary to make that color a more true white. You can use the other controls to change the amount of correction or adjust the brightness of the clip.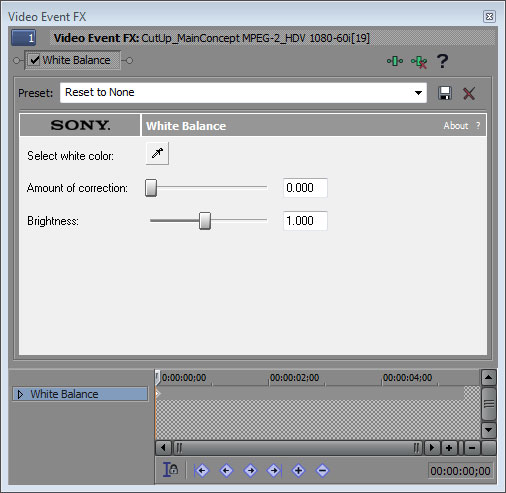 The new White Balance plug-in makes it easy to correct the white balance of your clips.
Vegas Pro has long featured support for external surface control devices. You can use these devices to provide a hardware interface, like a mixer or a jog/shuttle wheel with which you can control certain Vegas Pro controls like volume controls and many others. With the 9.0d update, we introduce support for the PreSonus FaderPort control device. This handy hardware control device doesn't take up a lot of room on your desktop, but gives you a hardware fader for volume control, a knob for panning control, and buttons for many different controls like Play and Stop, Mute, Solo, Record, and more.
If you have a Fader Port device, it's very easy to set it up and use it. First, install the Fader Port drivers and then use the supplied USB cable to connect the unit to your computer. Now, start Vegas Pro software and choose Options | Preferences. Click the MIDI tab. Select the FaderPort check boxes in both the Make these devices available for MIDI output and Make these devices available for MIDI input sections.
Now, click the External Control & Automation tab. Choose PreSonus Faderport Driver from the Available devices drop-down list and click the Add button. Click OK.
Next, choose Options | External Control. Now you're ready to use the FaderPort. Adjust the FaderPort controls to see how they control your project. For instance, press the FaderPort's Play button to start playing your project.
In addition to these totally new features, we've also made some great improvements to several existing features. For example, the Trimmer window is now more robust and useful than ever. First, we've added Copy Snapshot to Clipboard and Save Snapshot to File buttons to the Trimmer. These work just like the same buttons that have always been available in the Video Preview window except that instead of saving a file based on main timeline content, these new buttons save files based on the frame that's currently active in the Trimmer window.
For instance, to create a still-image from a video file in the Trimmer, load a file into the Trimmer. Place your cursor at the frame that you want to use as a still image. Click the Save Snapshot to File button. Choose your save location, give the image a name, and select the type of image you want to save, then click Save. You now have a still image of that frame. The Copy Snapshot to Clipboard button works the same way and puts the image onto your clipboard so you can paste it into another application if you want to.
Another great enhancement to the Trimmer window enables you to use the Fit to Fill button to fill any amount of time on your main timeline with a still image. To use this feature, make a selection on your main timeline. Notice in Figure 6 that I've selected the time between two existing events on my timeline. Then, load your still image into the Trimmer window. Now, click the Fit to Fill button. Vegas Pro software adds the still image to your timeline and makes the event last as long as it needs to in order to fill the entire time selection you specified.
You can now use the Fit to Fill button to fill a time selection on your main timeline with a still image of exactly the right length.
Speaking of capturing still images, we've made a great improvement to the way the Copy Snapshot to Clipboard and Save Snapshot to File buttons work in the Video Preview window. The feature now performs pixel aspect correction and automatically interlaces images shot from interlaced video. If your size is set to one of the Auto settings, this feature uses the Best (Full) setting to create the still image, thus ensuring that you get the highest-quality image possible.
The Device Explorer window has also been enhanced and gives you the ability to preview and import files from a hard disk recording unit such as the Sony HVR-DR60 and a memory recording unit like the Sony HVR-MRC1K. We explain the Device Explorer fully in the Vegas Pro 9.0 Seminar Series and these units work just the same as the devices we talk about in that training.
We've also made improvements to our smart render feature for MPEG-2 files which now supports MPEG-2 video streams intended for Blu-ray burning. This provides faster encoding and less generation loss because video frames pass through to the final file unaltered.
Finally, we've beefed up our support for R3D footage from the RED camera including support for 4.5K raw files and the new FLUT color science.
As I mentioned at the beginning of this column, the 9.0d update to Vegas Pro is more than just a few tweaks and fixes. It gives you real, powerful enhancements that make Vegas Pro software work even harder for you than before. And since the update is free, you get all of this extra functionality for free—and that's a very good price!
For free videos and other training resource that will help you get the most out of Vegas Pro software and our other applications, visit our training page at www.sonycreativesoftware.com/training.

Gary Rebholz, is the training manager for Sony Creative Software. Gary produces the popular Seminar Series training packages for Vegas Pro, ACID Pro, and Sound Forge software. He is also co-author of the book Digital Video and Audio Production. Gary has conducted countless hands-on classes in the Sony Creative Software training center, as well as at tradeshows such as the National Association of Broadcasters show.